Wash and treat
We have been washing and treating seed potatoes for more than 25 years. Every year thousands of tonnes of seed potatoes pass through our doors, for distribution and trade and the french fries industry in the Netherlands, Europe, and worldwide.
Washing seed potatoes prevents the spread of soil-borne diseases. It also ensures that the customer can better see what they are buying.
The cleaning process consists of a number of steps..
First, the seed potatoes are pre-washed. By washing, external defects of the seed potatoes such as scab, rhizoctonia and damage become more visible.
Then comes the main wash. In addition to water, a high concentration of ozone is used. By disinfecting with ozone, bacteria and fungi on the outside of the seed potato are killed.
After the main wash – depending on the variety and the preferences of the customer – you can opt for a chemical treatment with, for example, moncereen pro or maxim.
The entire line is cleaned after every wash. Cross-contamination and smearing do not stand a chance.
Good for the environment
HThe water we use to wash the seed potatoes is recycled. After the recycling process, we store the water in large basins to be used again. The sludge that remains is removed.
More information
Would you like to know more about the possibilities for the storage and transhipment of seed potatoes? Please contact us on +31 (0)321 331 632 or fill in our contact form.
Video: washing and treating seed potatoes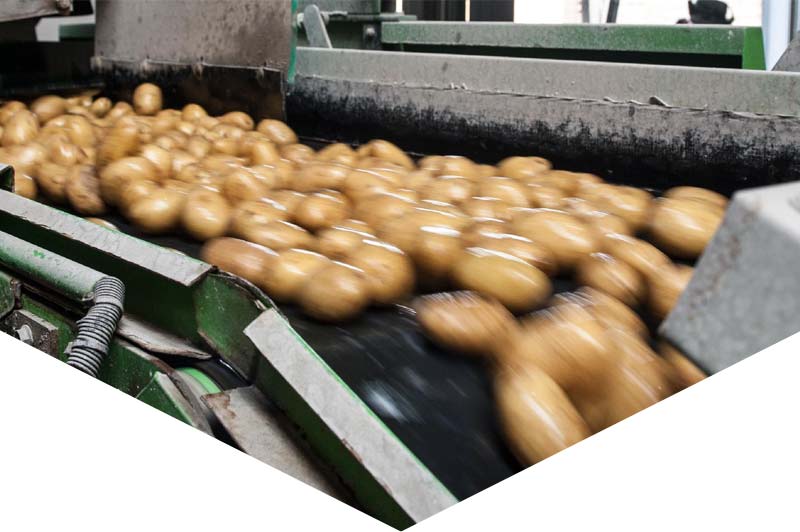 Tuber counting machine
More and more growers attach importance to seed potatoes, which is why a 'tuber counter' was installed in the washing line in 2013. Not only does this show the weight, but also the number of tubers per kg, which indicates how fine or coarse a certain batch is